SAVE Network Partner in Ireland
Irish Seed Savers Association, ISSA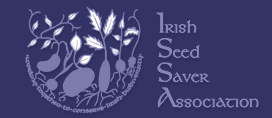 Anita Hayes founded the Irish Seed Savers Association in 1991. For the first few years the work was done from the founders own home and garden. She soon collected a core of willing helpers as well as seeds. With the financial aid of government bodies and many generous donations the association soon took on a life of it's own.
The first collection of native Irish apples was made in the 1940s by Keith Lamb and was planted on land belonging to Dublin Corporation; tragically it was destroyed in the early 1970s. Anita Hayes working with Peadar MacNeice of the Armagh Orchard Trust and Dr. Michael Hennerty of University College Dublin began work on replicating Dr. Lamb's collection in 1991. Now all but 14 of the original collection have been found. In 1996 the Native Irish Apple Collection was opened by President Mary Robinson at University College Dublin and we now have funding to replicate the collection here at the Seed Savers site.
Eight years ago one of our members enquired about old grain varieties. It transpired that unlike most western countries Ireland did not have a collection of native grains.
In 1997 the Irish Genetic Resources Conservation Trust and ISSA began a project to restore the Irish cereal varieties to the state. Prior to the introduction of the potato in Ireland, grains would have been the staple food. A search was made of gene banks worldwide and 48 Irish grains came to light. Michael Miklis, who farms in Piltown, Co Kilkenny took charge of the grain project. The gene banks could only give him 5-10 seeds of any one variety, so his first year only involved planting an area the size of a dining table, now he has approximately 6 acres devoted to grains and is anxious to get other organic farmers to assist him with commercial trials. Some un-named accessions may prove to be landrace material; many of the accessions are of considerable historical and cultural importance. Michael is convinced that some varieties have great potential for both animal and human food, for thatch and animal bedding.
---